FREE BOOK: A Young Widow's Promise by Ryan Field
I wanted to post something one more time about this freebie, because it's not going to last forever. I think it will be free through the weekend, but I'm not totally sure how long it will last next week.
So here's the link, and below is the blurb. It's only free on Amazon.
Felecia Roundtree is thirty-seven years old, she's already lost her husband in battle, and prays each morning her two young sons live to see another day. With her own two hands, she's turned the front of her property at remote Locust Point, NJ, into a burial ground for unknown Confederate prisoners of war, hoping someone will return a kind gesture to her own loved ones. Then one morning in August, just after she has a vision of her dead husband, three Confederate prisoners of war turn up at her doorstep begging for mercy. One is near death; the other two aren't much better. Though she's reluctant at first to help the enemy, she offers them food and shelter, and then eventually begins the romance of her lifetime with a young old Confederate named Calvin. When she learns a deep dark secret about the other two Confederates, she's not sure what to think. Felecia has no idea she's even falling in love. Nor does she realize she's preserving an important part of American History. But she's true to her promise every step of the way.
Ukrainian

Police Raid Gay Bar
Here's another update on the story from the Ukraine where a gay bar was raided. According to this, about 25 cops stormed into the bar at 1 in the morning and forced 30 people to go down on the floor, face down, for 3 hours. While the

patrons

were

humiliated

with gay slurs, the cops took their phones.
It turns out that the National Police of Ukraine considers sexual contacts of adult men as immoral acts, a regular activity of a night club (dances and shows) as a criminal offense, and distribution of condoms as promoting debauchery…
Here's the link. There's a short video of the scene, too. This kind of thing used to happen here in the US all the time.
Gay and the Fear of Aging
Here's a story about a young gay man who was afraid of getting older. I know that I've never been too thrilled about it. However, he makes some great observations.
As one matures you have to overcome certain things. This was definitely one of them for me. I did not want to hate myself for something I have no control over.
Here's the link to read more. He covers a lot with this one.
20 Photos of the Titanic
When I wrote my story about the Titanic there were no photos like this around. I would have loved to have seen them, especially in color. Getting information about the Titanic was simple, but trying to figure out how to work an LGBT story line in wasn't as easy.
In any event, here's a link to an article with 20 photos of the Titanic that most people have never seen.
This photo was taken before the ship set sail on its historical grand voyage. After moving tons of luggage onto the boat, people could not wait to get situated and see what was in store for the journey to come.
You can also check out my book, The Men Who Loved On the Titanic, here. I think the whole era is fascinating. Many believe the sinking of the Titanic marked the end of the Edwardian Era.
One hundred years ago on April 14, 1912, the RMS Titanic hit an iceberg on its way to New York. Though it had been considered unsinkable by all standards, it went down in the cold waters of the Atlantic, taking with it stories of love and romance that weren't discussed openly in those days. This was especially true with stories of love between two men. One of those hidden stories of the Titanic dealt with the unyielding love and strong romance between a young man named Liam and his older lover, Oliver. Because Oliver was a wealthy business man in America with a great deal of notoriety, the only safe way to bring Liam aboard the Titanic was to dress him in fine women's clothing and claim he was Oliver's shy, distant cousin returning to America for the first time in many years. They finally begin to relax when they realize that everyone on the ship believes Liam is a woman, until that fateful night on April 14th when destiny intervened and changed their lives forever.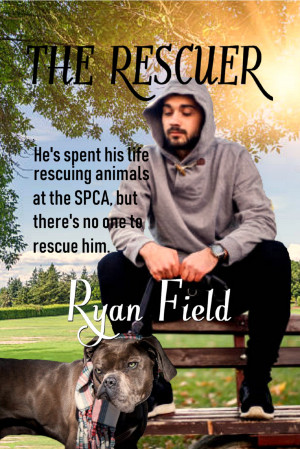 After Keith's boyfriend, Chet, turns down Keith's ultra-romantic marriage proposal on the beach in Provincetown, MA, Keith is left devastated and confused about what to do next. He begins to question everything, including his career as the director of a unique animal rescue foundation that's partly SPCA and partly pet hotel.
Keith loves working at the SPCA more than life itself, and he loves the animals as much as the people in his life, but he knows his job just isn't good enough to convince Chet to marry him. It might be time for him to join the prosperous family business, become an executive like his brother, and give up on his simple dream of re-homing and rescuing animals.
He winds up finding love and strength in some of the most unlikely places, one of which is with a shy, quirky 3-legged dog named Misty who teaches him the importance of trust and tenacity. Even though he's surrounded by all the things he loves most, from a mischievous pet monkey to a skunk who thinks she's a cat, Keith knows he'll never win Chet back unless he tries working at the family business. There's only one thing he's overlooked, and when he finally figures this out he realizes what's most important to him in this world.
Reader Review:
This story will stay with you and you will feel you know every character and the beauty of their home in the mountains of North Carolina. A sequel is in order and a film as well. Bravo Field
Have you ever wondered what it might have been like for two young men who fell in love in 1940? Well that's exactly what happened to young Joe Buddy Barnes and a cowboy drifter named Clay Totten.
Even though he's great at running his family's general store and fixing machines, Joe Buddy can't seem to figure out how to fix his own life. The fact that he lives way up on remote Buddy's Mountain in Western North Carolina, with two spinster aunts, doesn't help his situation either. Although his aunts devoted their lives to him, one aunt never got over a long lost love and the other was born a man who always identified as a woman.
Then one hot summer afternoon in 1940 everything changes. While Joe Buddy is swimming in the creek he accidentally meets a tall, dark cowboy from Wyoming named Clay. He's a drifter who is only passing through North Carolina on his way to Florida, where he plans to enlist in the military.
There's an instant connection, and Joe Buddy winds up bringing Clay home for supper that night because he feels sorry for him. However, Joe Buddy suspects there's more to Clay's story than he's telling, and he persuades Clay to stick around long enough to find out. As each event unfolds, these two young men move forward in ways that neither one of them ever expected. And as World War II lurks in the not so far off distance, there are some interesting changes coming to Buddy's Mountain you won't want to miss.